At Rez Glass Industries, our main priority is to make your homes look absolutely stunning. We guarantee satisfaction with our beautiful custom glass enclosures. We install a variety of different types of shower doors such as sliding doors, swing doors, etc. Contemporary and stylish frameless glass shower doors specifically designed for your bathroom will bring new light into the design of your bathroom. Mirrors are a necessity in every home. Custom size wall-to-wall mirrors visually enlarge space of your bathroom.
Inline Shower
About 50% of showers are inline. Usually a door + a fixed panel which can range anywhere from 4-6+ feet installed in a straight line enclosing your shower, or bathtub. Inline showers can be fabricated based on 2 or 3 section depending on the layout of your bathroom.
If you are remodeling your bathroom, it is important to understand why custom glass shower doors are better than any other option. A bathroom is a high customizable room that you spend more time in than you realize. With custom shower doors, you can match any look or tone.
A glass shower enclosure is easy to maintain, only requiring that the glass be cleaned regularly. We also recommend that you keep a squeegee in the shower so you can wipe the glass down following a shower and prevent soap scum from forming.
90 Degree Corner Shower
90-degree Corner showers are also popular. Majority of this style is installed in the ensuite – where the bathroom is spacious. The 90° return panel can go from the floor – ceiling or on a half wall, adjacent to a bathtub or vanity.
With custom 90-degree glass shower doors, you can choose from: frameless, semi-frameless, single or double doors. Not only will these doors match any look or function you are seeking, but they will also stay beautiful and safe for many years.
Sliding Shower Doors
Our sliders are consisted of two pieces of glass – fixed + moving. The fixed piece is secured to the overhead rod which supports the weight of the moving piece. The moving glass has rollers which sits on the overhead rod with a smooth surface allowing the glass to open & close with ease. The door guilder in the bottom helps point the door in the right direction. Our typical Tub Slider ranges between 54 – 62+ inches but can be shortened/extended. A standard gap overtop is mandatory.
Single Shower Door
Like the name, a simple, easy solution. A door consisted of two hinges which swings both ways. Single doors are basically inline shower, minus the fixed piece and usually 20-32 inches in width. You have many options to customize the handle and upgrade to either a doorknob, or towel bar. All of our swing doors are complimented with standard water sweep under the glass to ensure that there are no leaks.
Neo Angle Showers
Neo Angle, Three Angle or 45° are all common names. This style consists of two non-moving glass panels, and a movable door in center. Neo Angle Showers are common for small bathrooms – where the layout gives maximum space inside the shower yet takes minimum on the outside.
Whether you need to save space in the bathroom or just want an exciting and energetic look, the neo angle shower enclosure may be exactly what you need. These shower enclosures feature three glass sides that enclose two walls and usually fit in the corner of your bath. They can be compact or expansive, whatever you need to get your dream shower into your bathroom.
Shower Screen
Ever wondered why there is a window in a shower? Most likely because it is a steam shower. Although Steam showers are not 100% sealed, they are designed to trap the heat and mist inside without the use of bulky frames. The layout of the steam shower will vary based on project.
The beautiful benefits of a steam shower enclosure are definitely worth the price, especially if you have a specific vision of your bathroom that you want to make a reality.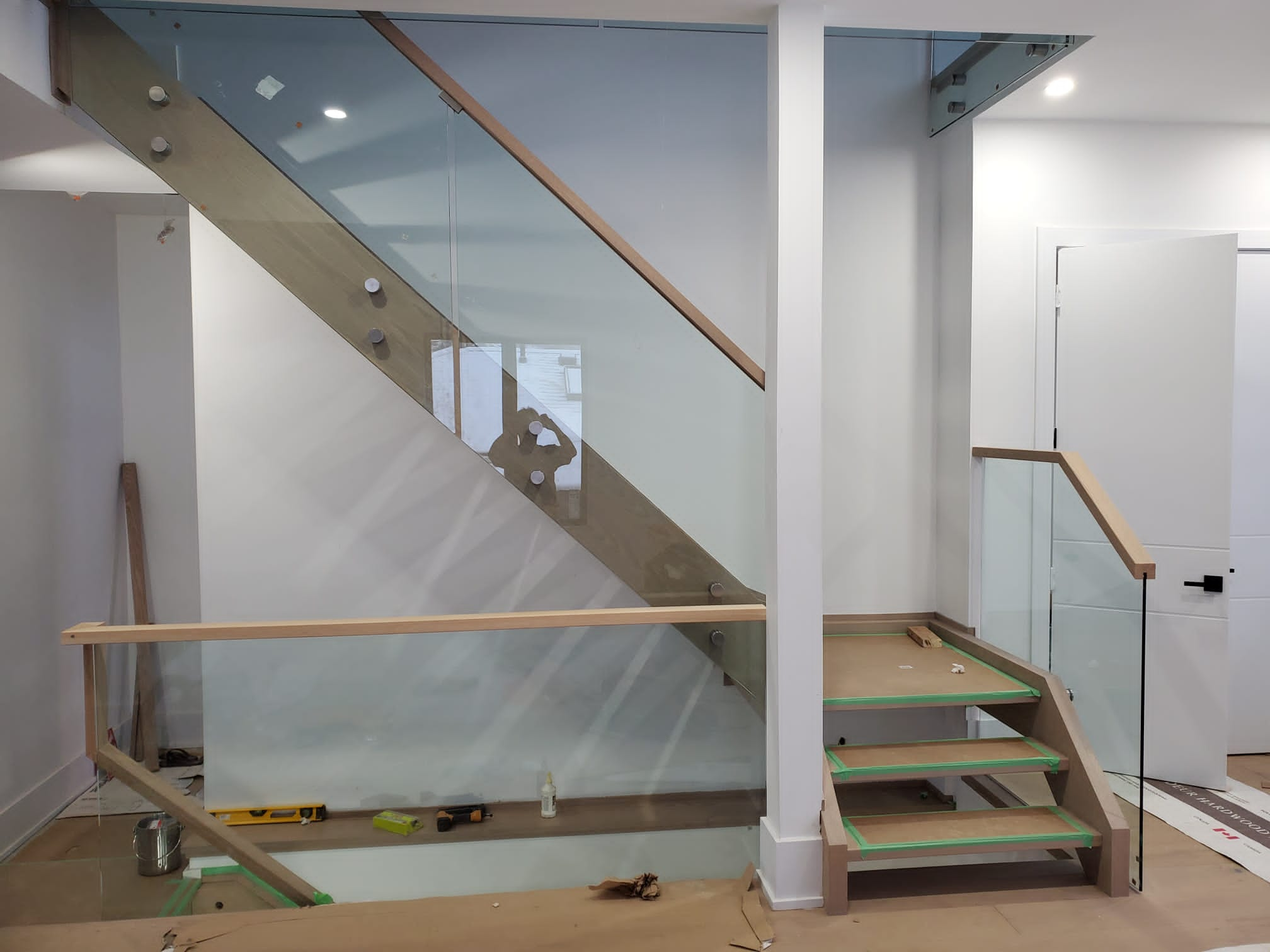 Interior and exterior glass railings are the new word in modern construction. Durable and stylish they make a perfect barrier for patios, pools and other places that needs fencing.
Standoff Glass Railing System
Industry standard standoff system is used for stairs, railings, outside balconies. They provide an absolute frameless floating look. Standoffs are available in many colours and sizes to match the exact vision you have of your custom glass railing.
Spigot Glass Railing System
The spigot system is our new design which we are very proud of. Spigots provide the functionality of posts, but with a much more frames design. This design amplifies the elegance of the glass railing buy making it look as if it is floating. Spigots are usually used for pool fences, decks, balconies, and even interior railings!
Post Glass Railing System
Post glass railings are offered in both round, and square. The posts are installed in between glass pieces to support and hold the glass in place. Post offer an industrial look while maintaining the elegance that comes with every glass railing. Posts can be used in both commercial and residential projects as they also come in various different styles, sizes, colours, and more!
Base Shoe Glass Railing System
The base shoe is another option for glass railings. The base shoe sits flat, the glass is inserted and secured inside the base. The heavy-duty base provides support and holds the glass in place and ensures no movement. If you are looking for more of a framed look, the base shoe is definitely the way to go!
Whether your project is small or large, straightforward or complex, Rez Glass Industries can create the exact mirror image of your needs in glass. Whatever your challenge may be for commercial glass, bring it to us and we are sure to have an innovative solution.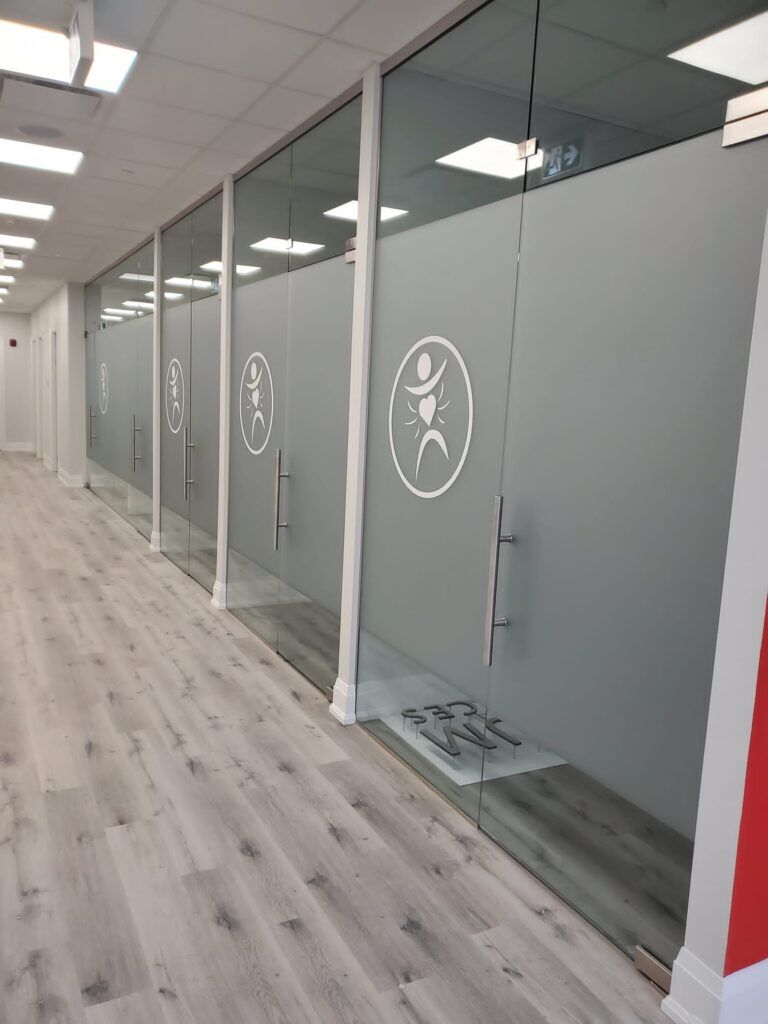 You need help with your renovation?
The stylish and organized interior represents the way to feel happy and complete. Design and comfort are primarily important for the success of a person's life.
Basic
A good choice when working remotely (from 100m²)
Planning Solution
3D Visualization
10 Construction Drawings
Selection of Materials
ULTRA
A good choice when working remotely (from 200m²)
Planning Solution
3D Visualization
Selection of Materials
20 Construction Drawings
Selection of Materials
PRO
A good choice when working remotely (from 250m²)
Planning Solution
3D Visualization
50 Construction Drawings
Selection of Materials
Experience Innovation the
Professional Way
The stylish and organized interior represents the way to feel happy and complete. Design and comfort are primarily important for the success of a person's life.
Are You Ready to Makeover Your Home?
The stylish and organized interior represents the way to feel happy and complete. Design and comfort are primarily important for the success of a person's life.